World's first fully active robotic microplasty surgery performed at SGVP Holistic Hospital, Ahmedabad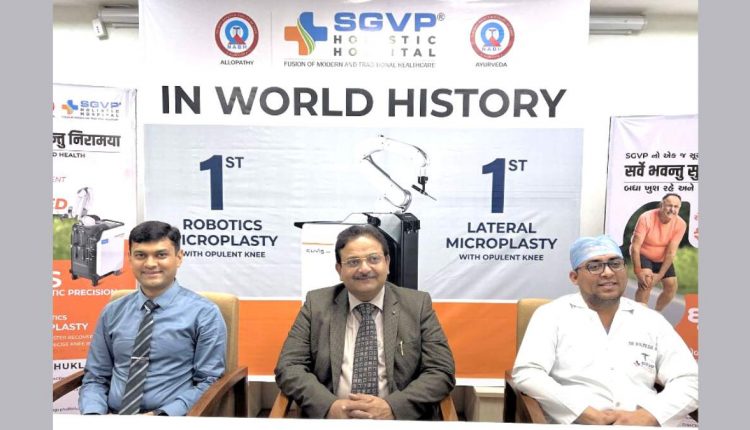 Ahmedabad (Gujarat) [India]: According to a market survey, the number of joint replacement surgeries in India is increasing every year, with the number of knee arthroplasties in India estimated to be around 2,00,000 in 2020.
Robotic knee replacement surgery is a type of knee replacement surgery that involves the use of a robotic system to assist the surgeon in the procedure. During this surgery, the surgeon uses a computer-guided system to plan and execute the surgery with greater accuracy. In robotic knee replacement surgery, the surgeon first creates a 3D virtual model of the patient's knee joint, which is then used to plan the surgery. The robotic system then uses sensors to track the position of the patient's knee in real time during surgery, allowing the surgeon to make precise cuts and place the implant with greater accuracy. Some of the potential benefits of robotic knee replacement surgery include reduced swelling, faster recovery time, and improved alignment and stability of the knee joint. Additionally, the robotic system can help the surgeon preserve more of the patient's healthy bone and tissue, leading to a more natural-feeling knee after surgery.
Dr Karthik Shukala, MS Ortho (Gold Medalist), Senior Joint and Orthopedic Surgeon and a pioneer in microplasty surgery at SGVP Holistic Hospital Ahmedabad, said, "When there is wear and tear on the outer part of the tendon, microplasty surgery can be done on the outer part as well. Opulent's system called Lateral Microplasty was also performed for the first time in the world at SGVP Holistic Hospital, Ahmedabad. Around 50 leading centers in India are availing the "Active Image Based Fully Automated Robotic System", which is highly customizable and accurate as well as safe knee Guarantees replacement surgery. Free robotic surgery for knee replacement patients will be performed at SGVP Holistic Hospital for needy patients."
Active robotic microplasty surgery refers to a surgical technique that involves the use of a robotic system to perform highly precise and controlled surgical procedures on very small structures in the body, such as blood vessels, nerves, or organs. This technique involves the use of specialized robotic instruments that are controlled by the surgeon from a console. These instruments are designed to be highly precise and accurate, allowing surgeons to perform complex procedures with greater ease and safety than traditional surgical techniques. Active robotic microplasty surgery has many potential advantages over conventional surgery, including shorter recovery times, reduced risk of complications, and improved outcomes for patients. (NF/PNN)
If you have any objection, queries or clarification regarding this press release content, please notify us at pr.error.rectification[at]gmail.com. We will respond and rectify the situation within 24 to 48 hours.